Phnom Penh Vue Aston Duplex & Apartments For Sale
Vue Aston, Phnom Penh offers for sale apartments, studios and duplex perfect for private buyers and real estate investment in Cambodia.
Each unit is designed with luxurious details to ensure a comfortable living experience. The building is built in an L-shape, with both sides stretching out to embrace the bay.
This elegant construction allows each apartment to enjoy a breathtaking view of the river.
The bedroom and living room of each unit is equipped with floor-to-ceiling windows (the view can reach up to 270°), in order to offer the best possible view to its owners.
PERFECT LOCATION
Vue Aston is located in Phum Kaoh Norea, Chbar Ampov District, between the Bassac River and the Mekong River.
It offers great accessibility to sea, land and air transport hubs. It is only a 15-minute drive from the new international airport and port of Phnom Penh.
Once the new bridge project linking Koh Pich and Koh Norea is completed, Vue Aston residents will be able to reach the centre of Phnom Penh within minutes.
FOREIGNERS OWNERSHIP INFORMATION
Foreigners are allowed to buy property in Cambodia, condominiums, apartments, or offices, as long as it is not located on the ground floor of a building and at least 30% of the other properties in the building are Cambodian owned (quota).
To purchase property in Cambodia all you need is a current passport and visa. However, we would strongly recommend that you have someone advise you through the process, such as a real estate agent or a lawyer.
It is important to conduct a title search before purchasing property. We can help you with this. Feel free to contact us.
Although Cambodian law prohibits foreigners from owning land, there are some possibilities. If you are interested, please contact us.
Studio
Living area 32.88m²​ - 42.93m²
1 Bedroom
Living area 59.78m² - 65.76m²
From $125,700 to $166,700
2 Bedrooms
Living area 74.23m² - 83.90m²
From $156,100 to $183,790
3 Bedrooms
Living area 119.56m² - 131.52m²
From $268,260 to $295,000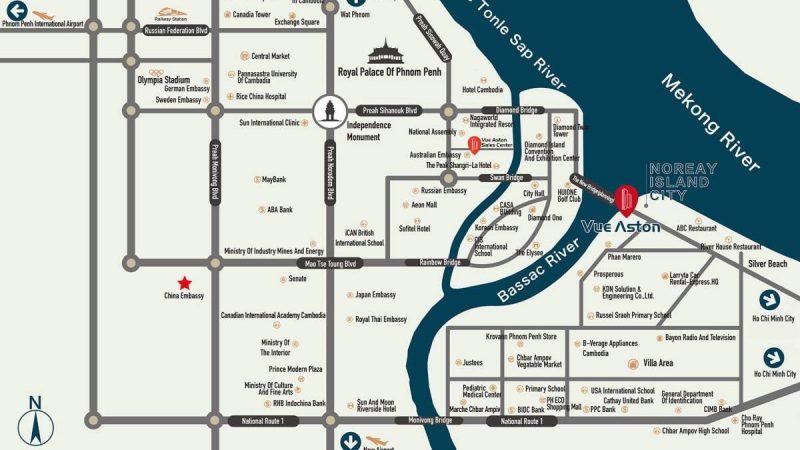 DESIGN
Vue Aston is a masterpiece designed by the world's largest architectural firm, HKS, which has already designed the Las Vegas City Center, Atlantis Dubai and the Venetian Macau.
Vue Aston's design incorporates the traditional Krama element of Cambodia but with a modern twist.
The building offers many visual changes depending on the angle, which not only shows the elegance of its design, but also reveals the traditional culture.
Indoor and outdoor facilities include a fully equipped fitness studio, a spacious and sparkling outdoor pool with a magnificent view.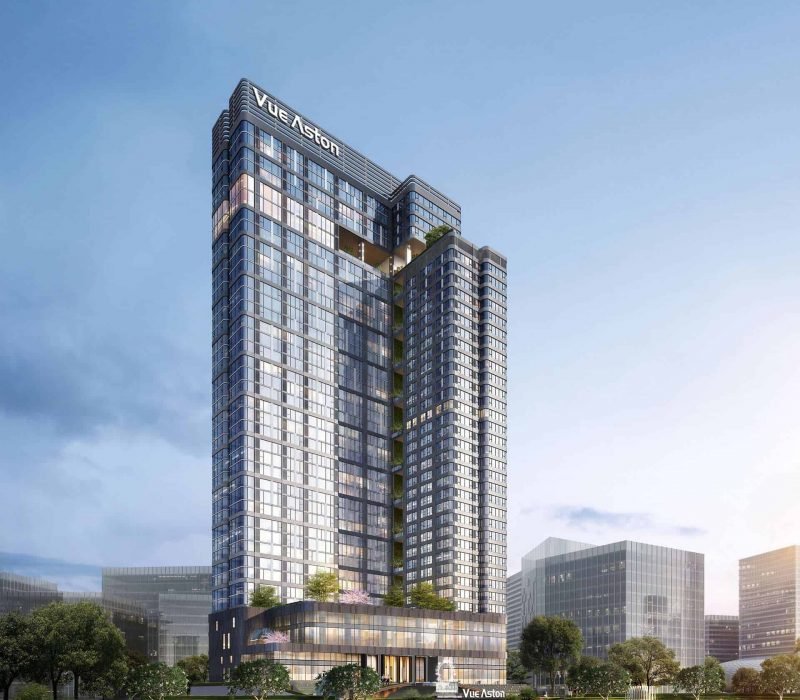 Why you should consider to invest in Vue Aston:
Prime Location, in Phnom Penh and Cambodia
Property developer with an excellent reputation
A Luxury Condominium
Ideal Investment, high ROI
High Appreciation Value
Bank Loans Available
Promotional Discount
Standard Information of the project
Total of units: 895
Bedrooms in a unit: from 1 to 4
Floor surface: from 32 m² to 148 m²
Number of floors: 38
Title: Hard Title
Unit types: Apartment, Condominium, Duplex
Vue Aston Video Presentation
All day dining and coffee shop
Sky Bar & Jewellery Shop
Multipurpose room & Banquet hall
Business Centre & Executive Lounge & Reception room
Multifunctional Entertainment & Video Room
Entertainment & Children's Library
Pool & Sky Garden
Gymnasium
Library
Billiard room & Table tennis
The location is not always 100% accurate and is given as an indication.
Other properties that may interest you
Guide to buying property in Cambodia for foreigners
You would like to know how foreigners can purchase a property in Cambodia? Read our dedicated article by clicking the button below.